Crouse Ford Sales: Authorized Ford Parts Center for 76 Years in Westminster MD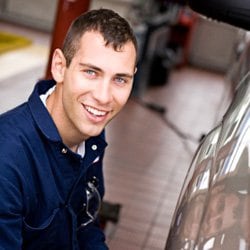 With experience comes a level of trust, and this idea applies to the parts team here at Crouse Ford Sales, as our Ford authorized service and parts center has been in operation for 76 years. We have learned a lot of things along the way, and made tweaks where necessary to deliver you the greatest genuine Ford parts order process possible.
Westminster MD drivers can place an order for a genuine Ford part here with our team at any time, whether you require an upgrade or are simply starting work on your own personal project. Shoppers from Frederick and Hanover PA often comment on the quality of the parts, along with the professional Ford auto service, exhibited here in this parts center. These genuine Ford parts are delivered from the original equipment manufacturer, and our certified technicians are masters of helping you find the varying components that you need.
Whether you need to replace the wiper blades on your windshield, improve your engine with a selective part, order a new light for your headlights, or address your brakes in a certain way, these genuine parts are what were used to initially put your vehicle together and can deliver a solution to the problem. Drivers from Gettysburg PA and Taneytown can make a sound investment with this quality and avoid the risks associated with cheaper counterfeit parts elsewhere.
Check out our parts specials for when you do decide to place your next order, and be sure to fill out a request form below with the necessary details. We look forward to getting in touch immediately when your request has been processed by our team.