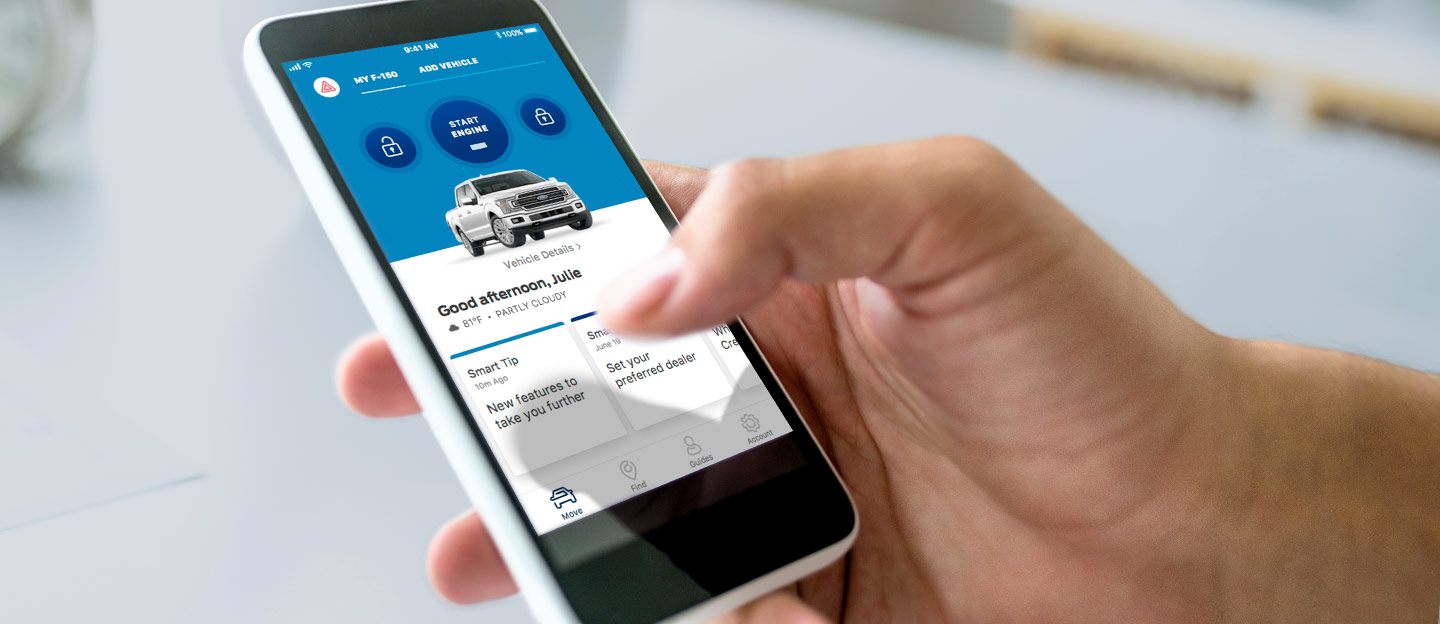 Crouse Ford, your Ford dealership in Maryland, is elated about the arrival of the FordPass™ app and wants to show our customers how it can improve every drive to make it easier and more enjoyable. Simply download this app on your smartphone, then connect it directly to your Ford and you will be able to use it. This app will help you keep track of important information about your vehicle such as the VIN number and key service updates. This app will be your driving partner over the course of any journey that you take. Crouse Ford, your Ford dealer in MD, can show you the FordPass™ app, how to install it, and how it can change the way you drive your Ford.


How to Use FordPass™
Many Ford models, such as the new Ford Ranger, the Ford Explorer, and the Ford F-150, include the SYNC® Connect system. If your Ford model is outfitted with this feature, then you'll be able to connect it to FordPass™. Never worry about just anyone accessing important information about your vehicle, as you'll be able to keep all of it safe using a self-chosen pin number. Connect this app to your Ford today and see how it can improve each drive that you take.
The FordPass™ Park app will eliminate the need to search around for an opening in a crowded parking lot. This feature of the app is available in certain cities and will help you locate a spot that your vehicle will fit into. If you use this app, you will be able to search for a parking spot by the neighborhood, by the address, or even by nearby landmarks. This app also lets you reserve your parking spot and pay to use it over a select period of time. Never scramble around looking for loose change to pay for your parking again, start your account and make parking easier than ever by using this app.

Start, shut off, lock, and unlock your vehicle using this app from anywhere that you can use your smartphone. You can track exactly where your vehicle is located at any time and even schedule your vehicle to start at the same time each day. This app also helps you monitor the levels of your fuel, as well as your fluids, so you can make sure that you are always up-to-date with any service that your vehicle requires. If you notice that your vehicle is getting low on gas, find a gas station close by using this app. It will allow you to search by fuel grade, price, and fuel brand.
This app will also let you check the weather around you. Using this tool allows you to fully prepare your vehicle for weather-related issues that you may encounter during your travels. Adjust your plans and your Ford according to what that weather is so it operates at peak performance. Make sure you're prepared for sleet, fog, rain, or snow with this app. Get whatever you need done before you start your trip, from topping off your vehicle's antifreeze to installing more heavy-duty wiper blades. Use the FordPass™ app and get ready for whatever the open road throws at you.

If your Ford model happens to experience a recall, this app will send you a notification. This allows you to get those problems fixed quickly and make sure that your Ford car, truck, or SUV is safe to drive. Use this app to see what your odometer is reading, plus get health reports on your vehicle when you experience problems like low fluids or deflated tires. You'll also be able to pay for those services via FordPay. Not only will you be able to pay for your vehicle's service, but you can also cover your model's financing using Ford Credit. Keep track of your payments and schedule them right from this app.
If you have any questions about the FordPass™ app, the team at Crouse Ford, your Ford dealer in MD, can answer whatever inquiries that you may have. Reach out to our team today and we will tell you more about the FordPass™ app and how to use it.
Hours
Monday

9am-7pm

Tuesday

9am-7pm

Wednesday

9am-7pm

Thursday

9am-7pm

Friday

9am-7pm

Saturday

9am-3pm

Sunday

Closed
Contact Us
* Indicates a required field